Technical Action Group is a managed IT services provider in Toronto. Technical Action Group caters to businesses with anywhere between 10 and 150 computers. Cloud computing, network security, backup and disaster recovery, mac and pc support and phone systems are some of the services offered by Technical Action Group. As a trusted partner for many companies across the GTA, Technical Action Group differentiates itself through the provision of responsive services, by experienced professionals, across a spectrum of business requirements.
To help stellar students continue their academic education without the pressure of having to pay bills, Technical Action Group runs an annual competition, offering $500 scholarship to the winner.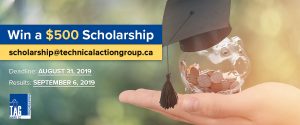 ELIGIBILITY
Canadian/US citizens or permanent residents with the required minimum GPA and enrolled in a Canadian or United States university or college for the Winter 2019 term.
HOW TO APPLY:
APPLICATION: Four components must be submitted for your entry: (A) Application form, (B) A small writing project, (C) Copy of transcript, (D) Proof of Canadian or US Residence
(A) Application Form: Fill out the Scholarship Application form on our scholarship page (Find Link Below). All fields must be filled out.
(B) Small Writing Project: On a website, blog or online forum, write an 800-1000 word article on the topic below:
WHAT ARE SOME TECHNOLOGICAL ADVANCEMENTS THAT MIGHT HELP IMPROVE CYBER SECURITY AND PREVENT FRAUD IN TODAY'S WORLD?
SUBMISSION GUIDELINES
Your published piece of content must be received no later than August 31, 2019
Applications should be emailed to scholarship@technicalactiongroup.ca in word format, no link to Google Docs or PDFs
Applicants should include their name, address and phone number
Applicants should include a link to their Facebook profile so that we may confirm their identity and school enrollment
The applicant should state where they are currently attending or planning to attend school in the body of their submission email
No additional information should be included
CRITERIA FOR EVALUATION
The best article will be innovative, express thoughts clearly and concisely, and be devoid of grammatical or spelling errors. The article must also include a link from the website or blog to the Technical Action Group website (https://technicalactiongroup.ca/)
IMPORTANT DATES
SUBMISSION DEADLINE: August 31, 2019
DATE OF DECISION: The winner will be announced and awarded on September 6, 2019
We look forward to reading your submissions.