Get A Leg Up On Your Competitors Through the Guidance of Your Own Chief Information Officer. Without Paying For One.
Technical Action Group's one of a kind CIO service available to all clients, no matter what your size, gives you access to business focused IT advice that will help you realize your goals and be the best you can be.
This service is available with all of our Managed Services plans with NO extra premiums. We offer it for no extra charge because we are passionate about helping our clients realize their potential, and navigate the ever-changing world of tools available to small business that they're too busy to keep up on.
What TAG's All-You-Need CIO Service Can Do For Your Business

TAG's "All You Need CIO" service will ensure your company moves along with industry standards and is not being left behind. We do this by keeping you advised of emerging technologies that you could leverage to make your business more productive and profitable.
When we solve any problem you are experiencing at present, we look at your long term vision to ensure that our recommended remedies support the vision.
This CIO service is a complimentary service as part of our managed services plans. No extra charges to access this type of IT leadership for your business.
We perform a full technology/business review with your management monthly, quarterly or yearly depending on your size and reliance on technology. This is an opportunity to review the current state of your IT and business, discuss any recurring issues / upcoming business goals and plan how technology can alleviate issues and support your goals.
Click here for an actual IT Review meeting agenda with one of TAG's clients. Names have been omitted for confidentiality.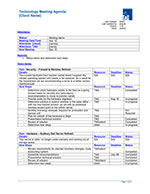 Regular ongoing client service lead meetings are held within TAG between senior technicians and management where we discuss any recurring issues within your network, and make recommendations for improvements that are then presented to your management team.
We provide you with a personalized IT Road Map for your business: As part of our CIO meetings with your management, we will design an IT roadmap which will contain your business goals, how technology fits into them, and a schedule for implementation based on urgency and budget. The IT road map is reviewed at each CIO meeting with you in order to keep them on track or make adjustments as necessary based on the fluctuating needs of your business.
Click on the pdf to see an actual TAG client IT Roadmap. Names have been omitted for confidentiality.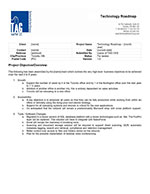 What a CIO Typically Offers:
Leadership
Regardless of the size and nature of your business, the need for a business to have the proper information technology and employees to operate that technology efficiently and safely can be great. For example, an organization may need a person or team to purchase and install computer hardware and software. Additional team members may be required to troubleshoot and train end users on the equipment. In addition, electronic communication technology, such as cellular telephone service, may be a large part of a company's infrastructure.
Businesses often recognize the strategic advantage of this model, but can fall short because they don't have a resident CIO, and management doesn't have time or know-how to keep on top of it all. Having a dedicated CIO allows all information technology policies to originate from a single source. This affords organizations the ability to better identify technological needs, as well as streamline the implementation of equipment and operational procedures.
Risk Management
Much of the information that a company saves in computer files is of a confidential nature. For example, personal customer information such as credit card account numbers, as well as an organization's trade secrets, are data that could potentially cause great financial damage to the firm if released to an unauthorized party. A customer whose identity is stolen may have grounds to sue the firm if data security negligence is determined. Likewise, the publication of a secret ingredient can result in a food manufacturer losing its competitive edge.
A CIO can mitigate financial risk to the company. They accomplish this by keeping on top of the latest cyber-threats, understanding the risk that their own employees pose to the safekeeping of their data, and researching the most current data security methods available while recommending only the most appropriate to the senior management team for procurement. In addition, they maintain a current knowledge of any law surrounding the collection and storage of data that regulates the business' industry such as PCI Compliancy for companies that store customer credit cards. The CIO ensures that these guidelines are followed.
Process Improvement
CIOs consistently search for ways to improve their employer's infrastructure and technology-related policies. In this regard, they often liaise with various department heads in order to get an understanding of their computer-related needs. Assessing which needs are currently being met and which are not, the CIO actively researches new hardware and software that may better support the business in achieving its goals.